Weber Newsletter - Blooming Where We are Planted
It has been a very busy season over the last six months, relocating the family and the ministry to Hamilton.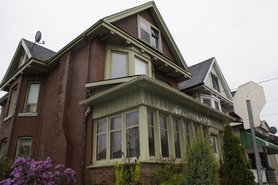 God has opened door after door with favor and gracious provision.  We are enjoying living in and developing our
Community House
just a little west of downtown Hamilton. Right now there are just three of us living there (four when Hannah comes to visit), but we are preparing rooms for interns to come and join us in our work at the Urban Monastery.Just a little ways away, GOHOP is sharing
donated office space
(thanks Hughson St. Baptist!) with True City and Micah House.  And we have Prayer Spaces there, at Living Rock, and in the East Barton neighborhood as well as our Prayer Space in Waterdown.
The Prayer Truck
One highlight of the last few months was the Prayer Truck.  For two weeks this summer we converted a UHaul Truck into a sacred space,

parked it in the downtown core, and had a fantastic time praying for and with folks in the neighborhood. 

Many people who would not normally come into a church, came to the Prayer Truck to communicate with God through painting, collaging, and origami, and to receive prayer themselves.  It was very exciting to host prayer on the streets of Hamilton, and we are already dreaming and praying about next Summer!
Prayer Resource Hub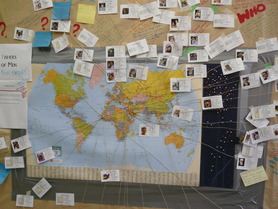 As we are settling into life in Hamilton, we are exploring with
True City
, ways that the Urban Monastery can be a resource to the local churches here.In partnership with missions agencies, we hosted a week of
24/7 prayer for World Missions
in October.  Individuals from many churches came and joined our prayers for the fulfillment of the Great Commission.
In addition, we are hosting a monthly book study on the Practice of Hospitality, which is being attended by leaders and congregants of churches in Hamilton and Waterdown.  One of our participants has already turned her learning into two sermons for her congregants!   Our team also provides prayer and prophetic ministry to pastors and business leaders.  Also we are supporting and encouraging a group of young leaders, again from a variety of churches in the city.  it is an exciting group where we explore together how to shape our lives after the leadership of Jesus.  Finally, Jill is joining a team of Hamilton Pastors who will be going to Uganda in April, to teach, to learn, and to explore how as churches and ministries in the city we can collaborate in missions.  You will hear more about the Uganda trip in a little while!
GOHOP's 10th Anniversay!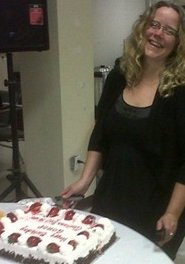 On October the 15th, GOHOP celebrated 10 years of Partnering in the Great Commission Through Day and Night Prayer.  We are so grateful for the love and support of all of you who have carried us in your hearts and in practical ways over the last decade.  Truly we have, all together, built a place of His presence in this community, and together are being built into the loving presence of a people of prayer.As we move into the next decade, we invite you to continue to partner with us and help to make all of our dreams for this city and region a reality.  His Kingdom Come!Partnering with the WebersAs you all know, we couldn't do what we do without your loving support, in friendship, prayer and resources.  We've seen God provide again and again in wonderful ways over the years.  I tell people that in 10 years of being missionaries, we've never missed rent, and we've never fasted involuntarily!  If you would like to partner with us financially, for our ongoing expenses or to help with the Uganda Trip, you can donate here.