On Pilgrims and Pilgrimage
We are right in the middle of Prayer Truck, and our team is having all kinds of wonderful encounters with neighborhood folks in our street level sanctuary.  Kirk especially loves the Prayer Truck, and is out every night till midnight sharing the gospel and praying for people.  We are finding that our investment in the neighborhood over the last couple of years is really beginning to pay off.  Lasting relationships are being made, many of which started at the Truck!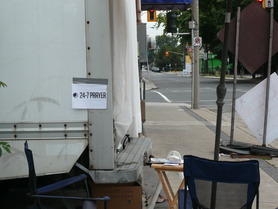 Since this time last year, our team has almost doubled.  They say "work your strengths and staff your weaknesses".  I guess I must be a pretty weak person, because God has brought to us a group of very gifted and skilled individuals to join in the mission of God through GOHOP.  What that means for me is a shift in focus in this next season.  I will be doing more leadership development, management, and putting the appropriate systems in place so that we can serve our team well so they can minister effectively in the prayer room and in the city.  Please pray for me for wisdom and God's strategy to help the team continue to be fluid and flexible, creative, and responsive to God's initiative as we grow.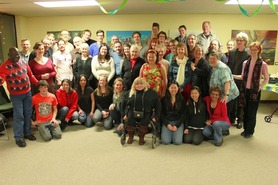 As soon as Prayer Truck is done, Kirk and I will be taking 2 weeks away at a family cottage for a much needed rest.  Then Hannah and I will be flying to Vancouver for a bit more rest with my parents, and some skills development for me with the 614 Urban Monastic Community in the Downtown East Side in Vancouver."What about the fall?"  you ask.
 Last month, I'm at my ministerial meetings, and my friend and colleague, Gordon, prophesied over me.
"You're going to England, to meet with some Houses of Prayer there.  God has given you keys that will be helpful to them!"
What Gordon did not know (in the natural), is that Hannah and I, along with several members of our GOHOP team, are going on pilgrimage to Ireland and the UK in October. 
 24-7 is having its International Gathering in Dublin
.
GOHOP has been in dialogue with 24-7 for a couple of years now about GOHOP becoming one of their official Boiler Rooms.  Consequently, as part of those negotiations its imperative that I attend and meet the international family.And since we're going all the way across the Atlantic, we decided to expand the pilgrimage to visit ancient and modern monastic sites in Ireland, Scotland, and England including Iona and Bangor.  Along the way we will be visiting the 24/7 Boiler Room Communities of Guildford and Stanford.  We will be praying.  Meeting our UK and Irish 24-7 family in their communities, learning from one another.  We feel that Hannah is supposed to accompany me on the journey.The cost for Hannah and I to go on this trip will be about $6000 for the two of us.  If you feel like you would like to help us along the way you can give online at 
www.canadahelps.org
, or send cheques made payable to GOHOP to Box 1617, Burlington ON, L7R 5A1.